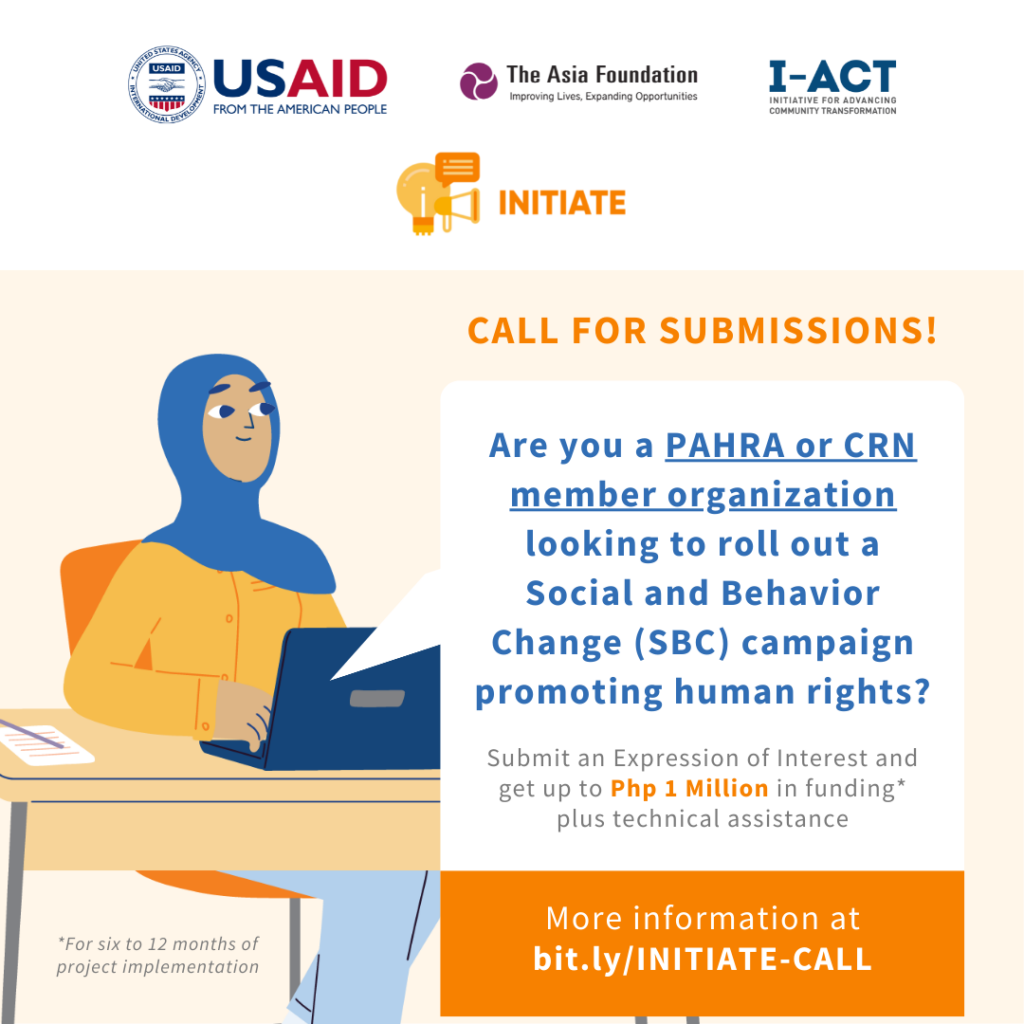 [Batch 2 is closed. Please visit this page for announcements on new batches.]
The Initiative for Advancing Community Transformation (I-ACT) — a USAID-funded program implemented by The Asia Foundation driving adoption of SBC among Philippine human rights organizations — is seeking Expressions of Interest (EOI) among PAHRA and CRN Members under its Grants Program for Social and Behavior Change (SBC) Campaigns, INITIATE.
I-ACT will provide grants with the maximum funding support of One Million Pesos (Php 1,000,000.00) per qualified member organization of PAHRA and CRN for 6-12 months of activity implementation. Visit this page for the program overview, eligibility requirements, application procedure, and templates.
If your organization is eligible to apply, enroll in and complete the ADVANCE SBC Training Program, then download and fill up the Expression of Interest (EOI) template. Submit your completed form using this Google Form.
Note: Decisions on eligibility and award of grants are made solely by the Foundation. The coalitions' leadership or secretariat are not part of the I-ACT evaluation process.
The deadline for submissions for PAHRA expressions of interest is on 15 December 2022, 5:00 PM (Philippine time) while the deadline for CRN expressions of interest is on 21 December 2022, 5:00 PM (Philippine time).
Upon submission, applicants will receive an email acknowledgment within one to two days. For concerns or clarifications, please contact Ms. Russel Ramos, Program Officer at russel.ramos@asiafoundation.org, and Ms. Asmin Monib, Assistant Program Officer at asmin.monib@asiafoundation.org, copying initiate.humanrightsph@asiafoundation.org.