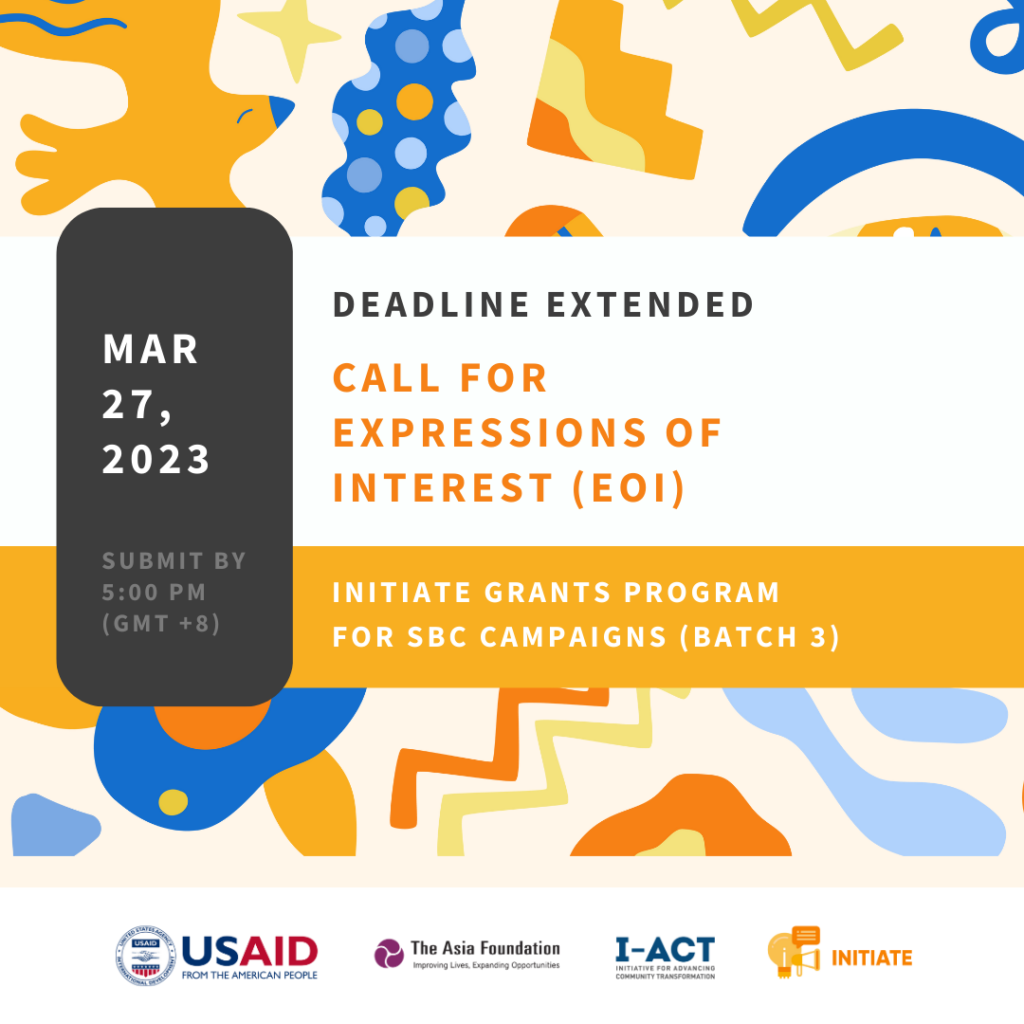 [UPDATE: We are no longer accepting submissions for this batch. Please stay tuned for future announcements.]
The Initiative for Advancing Community Transformation (I-ACT) — a USAID-funded program implemented by The Asia Foundation driving adoption of SBC among Philippine human rights organizations — is seeking Expressions of Interest (EOI) for Batch 3 of its Grants Program for Social and Behavior Change (SBC) Campaigns, INITIATE, specifically from the following coalitions/networks:
In Defense of Human Rights and Dignity Movement (iDEFEND)
I-ACT will provide grants with the maximum funding support of Php 1,000,000.00* per qualified member organization for six months of activity implementation. Visit this page for the program overview, eligibility requirements, application procedure, and templates.
If your organization is eligible to apply, enroll in and complete the ADVANCE SBC Training Program, then download and fill up the Expression of Interest (EOI) template. Submit your completed form using this Google Form.
Note: Decisions on eligibility and award of grants are made solely by the Foundation. The coalitions' leadership or secretariat are not part of the I-ACT evaluation process.
The deadline for submissions is below:
Deadline for In Defense of Human Rights and Dignity Movement (iDEFEND) EOIs: Extended to March 27, 2023 (Monday), 5:00 PM (GMT +8)
Upon submission, applicants will receive an email acknowledgment within one to two days. For concerns or clarifications, please contact humanrightsph@asiafoundation.org.
*Php 700,000.00 initial funding opportunity, with the possibility of an additional Php 300,000.00 subject to the approval of the scaleup plan and availability of funds